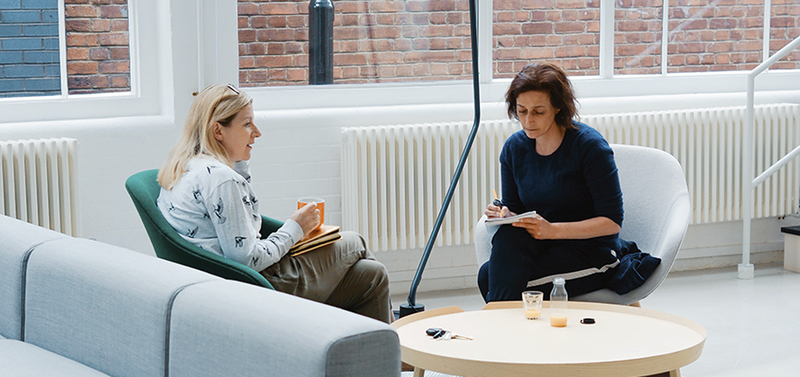 At People Executive we offer professional career and outplacement advice. Whatever your experience and ambitions, input from experienced consultants can ensure a more focused and realistic plan for your future career.
You can book career advice at People Executive, whether it's CV sparring, personal analysis, or job interview training.
Crucially, we want you to leave a career consultation with a better sense of your aspirations and options than when you arrived. We will discuss your career, your achievements and business footprint, your approach and methods, your personality and management style. We will contribute with concrete recommendations on how to move forward towards your goals and achieve them.
Outplacement counselling always begins with a no-obligation chemistry meeting to ensure that the collaboration can be trusting and rewarding. At the same time, individually tailored paths are clarified and, once the form of cooperation is in place, we begin the process.
A characteristic of all programs is that we constructively challenge core competences and possible career directions. We then adapt the means - in the form of CVs, personal profiles, etc. - so that we can quickly focus the program on concrete future job opportunities. In the process, we use relevant and concrete training in the job interview situation, so you are equipped with up-to-date tools in hand to best position you in the interview process with a potential employer. During and between our meetings we are of course available.
Find more information and get inspired on our blog: INSIGHTS
Read here what our candidates say about our courses:
"...Thank you very much for the attachment and our chat the other day. You have undoubtedly given me some tips and tricks on how to further optimize my CV and my job search..."
"...My experience need not be anonymous. Through our chat and with the sparring we went through, I very quickly got some concrete examples on how to make my CV stronger. You broke the norms by saying that my CV should be seen and used as an application and therefore should be tailored to each company. Ergo: it needs to be dynamic. In addition, you gave me very clear tips on what my CV should contain. Among other things, results in point form. In general, you have helped me to streamline my job search as well as my CV..."
"...Today I received a very inspiring concrete and very personal sparring about my CV. Anders has really put himself into my CV and was able to give good and motivating input in terms of fine-tuning and optimizing my CV. He took the time to answer all my questions about my CV and my reflections on it. Based on Anders' input, I can now target my job search even more and make myself even more attractive in the job search. Thank you for a positive and motivating dialogue, which is highly appreciated at this time..."
"...Many thanks for your absolutely fantastic sparring about my CV, LinkedIn profile, as well as how I can improve my chances of being considered the next time a new dream job comes up. It was an eye-opener to get your open and honest feedback as well as great advice for improving my CV. Again, thank you for exciting and constructive sparring with good humor and full speed ahead..."
"...In 45 minutes, Anders gave many concrete and useful inputs for my CV. He clearly has the experience and insight into what works and what doesn't to be able to move you and your CV in a more present, relevant, and readable direction and thus closer to your next job. Use Anders if you want to be sharper on your CV and social media profile - you won't regret it!..."
"...In connection with a job change, I was offered an outplacement program through People Executive. Pia, who I was assigned to, was an incredibly good and professional sparring partner. I received sparring on many levels - from the "big helicopter perspective" right down to constructive and concrete feedback on both CV and applications. It was always done with me and my wishes/needs in mind and with a great personal commitment. That's why I felt I got so much out of the process." - Bente Hunnerup, Solution Marketing Manager, TRIAX A/S